Services
Website Design, Logo Design, Search Engine Optimization, Ongoing Website Maintenance
Introduction – Responsive Website Design for Dental Practice in Higher Blackley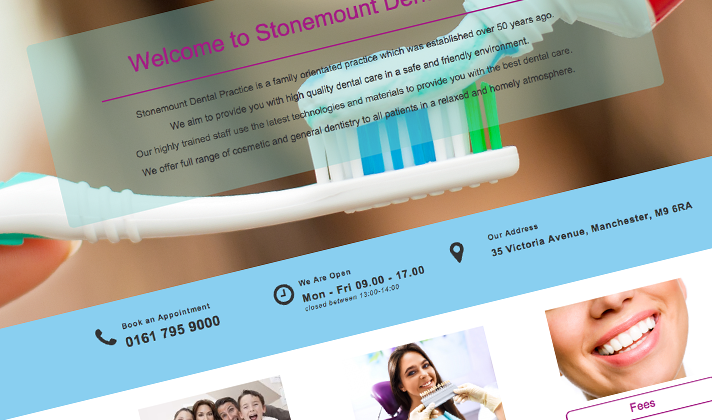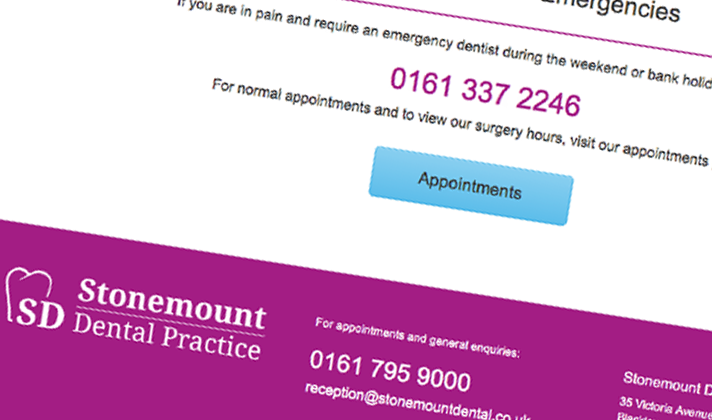 Stonemount Dental Practice is a family orientated practice based in Higher Blackley which was established over 50 years ago. Their aim is to provide a high quality dental care service in a safe and friendly environment. They pride themselves in using  the latest technologies and materials to provide you with the best dental care. They offer full range of cosmetic and general dentistry to all patients in a relaxed and homely atmosphere.
The Brief
Recently taken over by new owners Stonemount Dental Practice didn't have an existing website, but quickly realised if they wanted to attract new patients and compete successfully with other practices in the local area they needed to have an online presence and use Social media more effectively. They approached us to help design a responsive website that would give them the ability to update the content and add pages themselves through a Content Management System (CMS). The main purpose of the website is to use the website to help promote the dental Practice locally within Higher Blackley and surrounding area, as well as advertising their dental services and treatments, opening hours, contact details and to integrate with Social Media.
Solution
Design
We created a fully responsive website Content Managed website on the popular Wordpress platform that was both visually appealing, easy for the user.
Aftercare Support
We believe that our post new website support is a very important part of the service that we provide, many businesses know they need a well designed mobile friendly website to help promote their business and market their services and to help them successfully grow, but many don't have the time, resources and sometimes knowledge to keep their website continually up to date, with the latest technologies, keeping it secure and online, regularly backed up and any additional updates to images and text, support and training, providing consultancy on the latest online developments including social media and knowing they have someone they can call if they have any questions.Contact us
Are you looking for a website design company in manchester and  you think that we can help your business get more from your online presence please get in touch or contact us on 0845 652 4412 or 0161 427 9911